If you're baby is acting extra fussy, you may be in the early stages of seeing teeth come through. Here are the top products for teething relief.

Teething is one of those life experience that can quite possibly be just as upsetting to you as a parent as it is for your little one. If you're baby is acting extra fussy, you may be in the early stages of seeing teach come through. Each child will have different symptoms, as well as timelines. But, no matter when those chompers start to appear, here are our favorite items to soothe your teething baby.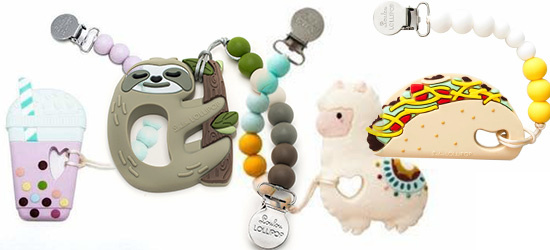 Made of food grade silicone, Lou Lou Lollipop Teethers feature nubby textures on both sides and a built-in holder with silicone beads and a rust-resistant stainless steel clip. Not only will this be the perfect gum soother for your little one, but they also come in adorable themes and colors.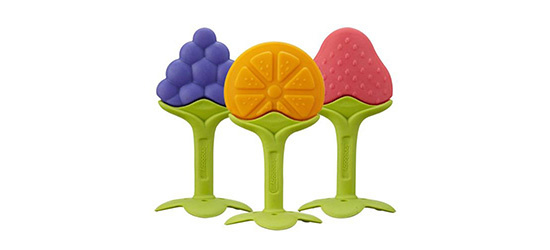 Innobaby's fruit teethers aren't just great for teething pain, they're considered "training teethers," which means they're great for a bunch of different reasons. They stimulate the muscles of the lips, tongue, and cheeks to improve oral motor skills, which aids in nursing, eating solid foods, drinking from cups, and speech development. The light and easy to grip handle also improves hand-eye coordination.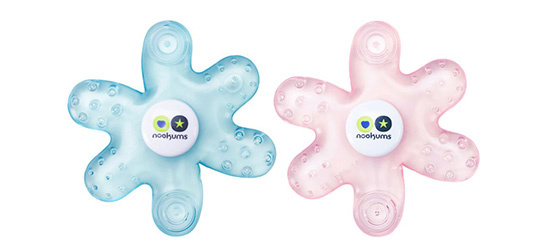 Turn any Paci-Plushies plush product into a Teether with the Chillies Teether Add-On. Chillies Teethers are filled with purified water and store in the fridge. These lightweight chillables help to soothe tender gums and boo-boos for children of all ages. Attach your favorite Paci-Plushie and baby will enjoy the cool teether while keeping their fingers warm with their favorite plush.
Sore gums are no match for the Itzy Ritzy Silicone Teether! Itzy Ritzy teethers are safe on baby's gums, and the open design makes them easy for small hands to grasp.
These teethers are made of non-toxic food grade silicone and have texture on one side to massage sore gums and provide relief to emerging teeth. The texture also helps your baby discover and explore new senses, so go ahead and chew on this!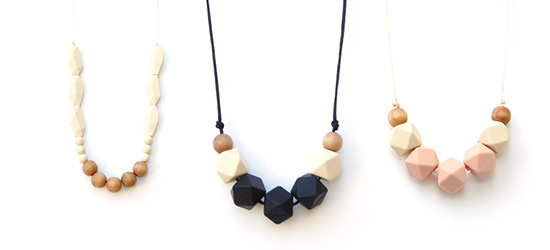 Teething in style! The Lollia wooden and silicone teething necklaces are designed for the style savvy modern mama in mind. With various designs from simple to statement to match your personal style. These teething necklaces are great to keep your teething babies entertained. They are made with 100% food-grade silicone, are dishwasher safe (yes!) and have a breakaway clasp for a quick release.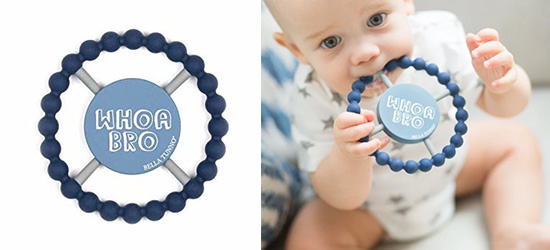 The Bella Tunno Teether is definitely made with Baby in mind. It's for teething happy with an easy grip for baby and a dash of personality for parents. These teethers are dishwasher and freezer safe. What else can you ask for? Happy baby and a giggle from mom and dad.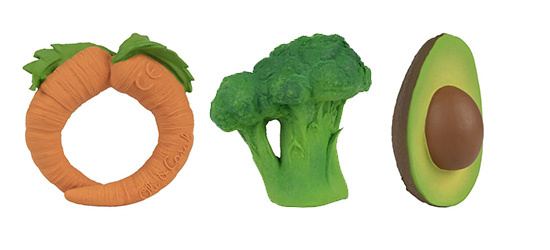 Reach for Oil&Carol's all-natural teether and bath toy to introduce sensory play. It's made from 100% plant-based rubber and designed with no holes to prevent icky bacteria from collecting. Turn bath time into playtime, soothe teething, and stimulate baby's developing senses.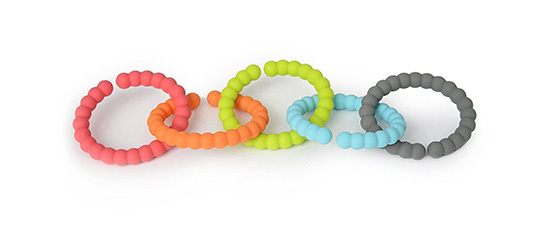 Multi use silicone links are perfect for attaching toys and teethers to your stroller, high chair, or car seat. Not only to they keep toys off the ground, they soothe your baby's gums when symptoms are appearing in transit.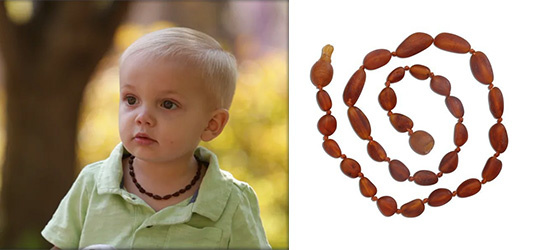 Comfort your sweet baby with these healing amber beads which can reduce drooling and pain when teething. These baltic amber beads are certified 100% natural baltic amber with testing verification.
When worn on the skin, body heat causes the amber to release an oil containing succinic acid, which when absorbed into the skin, works to block pain and reduce inflammation and is commonly known as "teething jewelry" in Europe. All amber necklaces are double knotted and feature a break-away clasp for child safety. 
Available in two lengths. There are also coordinating soothing bracelets available.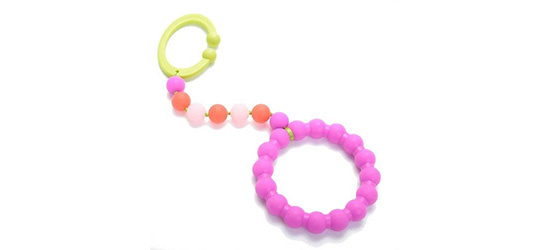 Give your little one soothing relief with a Chewbeads Baby Gramercy Teether Stroller Toy. With a versatile design that can be clipped onto a car seat or stroller, the teether is made of non-toxic silicone, so your baby can tug, touch, and chew happily.